Nick Rousseau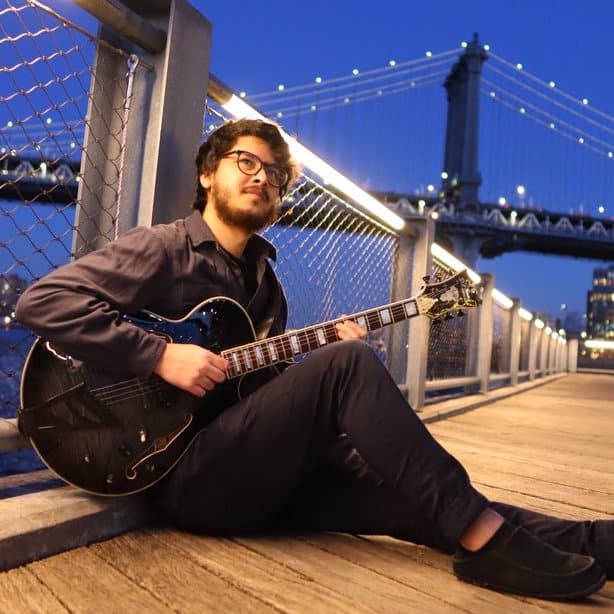 "Nick is a powerhouse of beautiful melodic and thematic music, elegantly supported by his understanding and thoughtful use of rich harmonic modalities - A truly humanistic artist with a message."
— Ben Schwendener

Nick Brooklyn Bridge 2022 (Captured by I'RO from I'RONEOUS MEDIA)
Hi! I'm Nick, a guitarist, composer, mixing engineer, and producer based in Brooklyn, NY.

As a guitarist and composer, I try to share thought provoking and emotionally compelling music to whoever I get the pleasure of sharing my music with. I'm greatly influenced by musicians across the genre spectrum from Wayne Shorter to Shai Maestro, The Beatles to Led Zeppelin, Foo Fighters to Circa Survive, and more contemporary forward-thinking music from Aaron Parks Little Big to Donny McCaslin. Whenever I play, I try to bring all of me to the table and create music that's honest and bring out the parts I love about music. I enjoy harmonic complexities and polyrhythmic feels, but I love lyrical melodies and simple ideas.

As a mixing engineer, I bring the experience as a musician into every mix. I like to think of mixing as a slowed down, perfectionist version of finding a natural balance while playing with a band, and I aims to achieve what I call a "Hyper-Realistic" sound. Not only do I strive to get the music sounding like the best seat in the house at a concert hall or dive bar, but an augmentation of that, using the technology I have available to me.


Terranaut Recordings
I'm also half of Terranaut Recordings, a small music production company run by my good friend and collaborator Sean Hannon and I. We essentially help singer-songwriters take their songs and bring them through the production process, tracking all the instruments, and mixing and mastering the songs. Our goal is to give access to songwriters to be able to record and release their music while still operating on a budget while keeping 100% of the rights to their music.


Youtube
Finally, I make educational and performance content on my YouTube Channel where I discuss what I think are the 3 pillars of music. The content ranges from gear demos (like guitar pedals and microphones), lessons on theory/harmony/composition/song-writing, and technical guitar exercises like chord voicings or tapping.

In May 2017, I got my Bachelors Degree in Jazz Performance from Florida International University (Magna Cum Laude) and I'm currently finishing my Masters Degree at New York University, in addition to being an adjunct instructor of non-degree jazz guitar lessons at NYU. I've has studied privately with musicians such as Alvaro Bermudez, Tom Lippincott, Gary Campbell, Eric Hofbauer, Ben Schwendener, Ari Hoenig, and Alex Sipiagin, John Hadfield, Alan Ferber, Chris Potter, and Wayne Krantz. I've also taken courses like Mixing in the DAW taught by Kevin Killen.