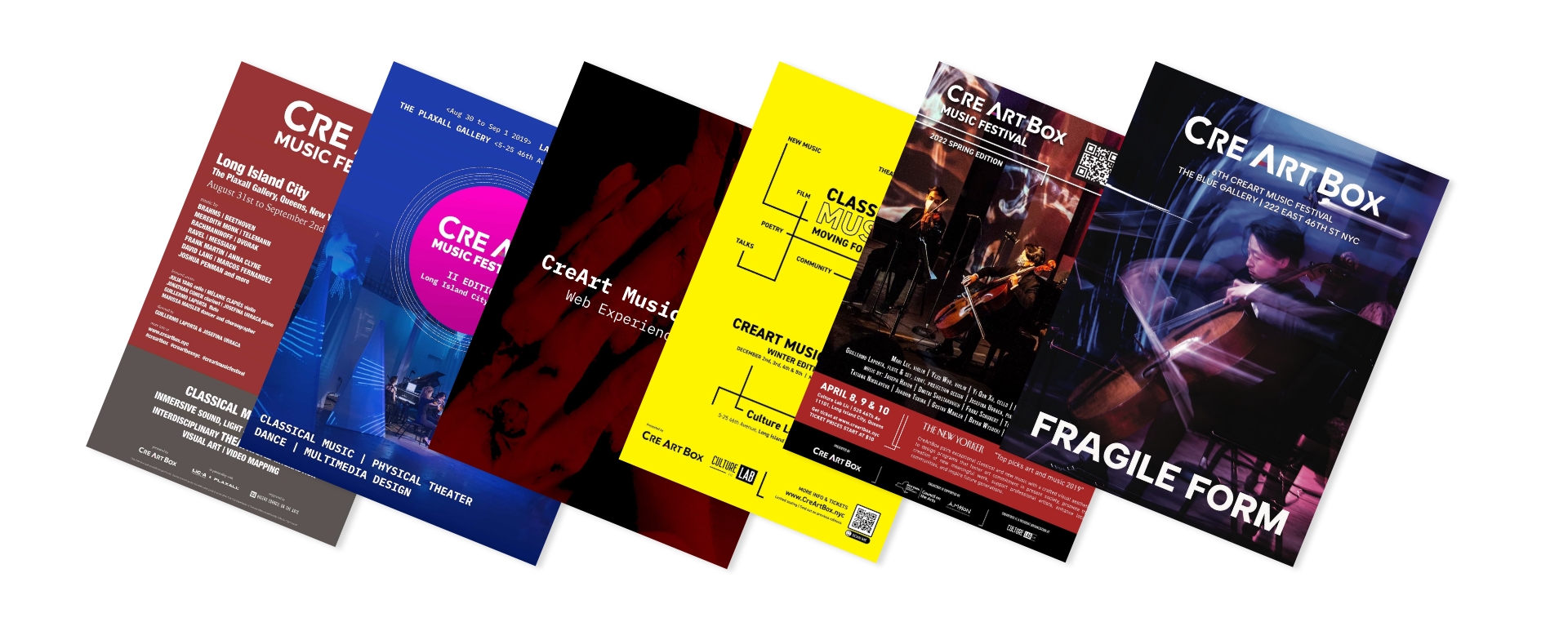 CreArt Music Festival
Queens, New York (since 2018)
Innovative visuals installations and multimedia designs alongside the musical performances.
Celebrated by The New Yorker as one of its "art and music top picks in 2019" the CreArtBox Music Festival has solidified its presence as one of the most sought-after classical music platforms in Queens, offering regularly sold-out performances since its premiere in 2018.
Directed and curated by Guillermo Laporta and Josefina Urraca, the festival presents CreArtBox's roster of musicians, many of whom are members of notable orchestras and ensembles such as the Metropolitan Opera Orchestra, Chamber Music Society of Lincoln Center, New York Philharmonic, New World Symphony Orchestra, and BBC Orchestra.
A key component of the festival is the use of captivating visual installations and theatrical design alongside the musical performances. CreArtBox works with visual artists, designers, dancers, and other creatives to craft multi-layered performances centered around classical music.
The festival includes artist talks and Q&A sessions where composers, musicians, and visual artists are more accessible and approachable to the local community than they are in regular performances. In addition to performances, this program showcases talks with the composers, musicians, and directors, exploring the creative process of a piece, the benefits of creating art for society, the status of the arts in the local community, and tips on how to build a career as an artist.
To reach low-income households and offer affordable art to everyone in the local community, the festival has partnered with local organizations such as Queens Library, the YMCA, Book Culture, local schools, and other groups to offer at least 10% of the seating for free and to make sure that affordable tickets are available to young audiences in low-income households.
Steinway & Sons is the official piano maker of choice for the festival. Since 1853, Steinway pianos have set an unparalleled standard for sound, touch, beauty, and investment value. They remain the choice of 9 out of 10 concert artists, and it is the preferred piano of countless musicians, professional and amateur, throughout the world.