The Dimenna Center, New York
450 W 37th St, New York, NY View Map
Tuesday, November 14th 2023 | 7:30pm
Ten pages of a yet to be written book open to new ideas and new horizons. CreArtBox celebrates its 10th anniversary of creating and producing live art performances, merging classical and contemporary music. In 2013, we presented 'Pictures at an Exhibition' by Modest Mussorgsky. As an homage to that concert, we will revisit it, combining it with new music composed by our resident composer Andrea Casarrubios, Saint Saiens, and Rachmaninov.
Regular price
Sale price
$35.00 USD
Unit price
per
Sale
Sold out
Program
Andrea Casarrubios
Afilador [7']

Camille Saint-Saens
Piano quintet in A Minor, Op. 14
I. Allegro moderato e maestoso [10']
II. Andante sostentuo[6']
III. Presto[5']
IV. Allegro assai, ma tranquillo [8']

Sergei Rachmaninoff
Trio élégiaque in G Minor, No. 1 [14']

Modest Mussorgsky
Pictures of an Exhibition (transcribed for Piano, VIolin, Viola, Cello and Flute) [35']


ABOUT CREARTBOX
CreArtBox creates and produces live art performances, fusing classical and contemporary music with original ideas encouraged by multidisciplinary interaction. Our programs are designed to support professional artists, encourage the creation of new meaningful work, make world-class performances accessible to everyone regardless of background or economic circumstance, inspire and educate future generations, revitalize local communities, and nurture new ways of human expression.
Celebrated by The New Yorker as one of its "art and music top picks", by Time Out as an "ensemble devoted to multidisciplinary events" and by Broadway World as "a wholly authentic, visually and aurally compelling experience", CreArtBox has solidified its presence as one of the preeminent classical music organizations in New York City.
Share
View full details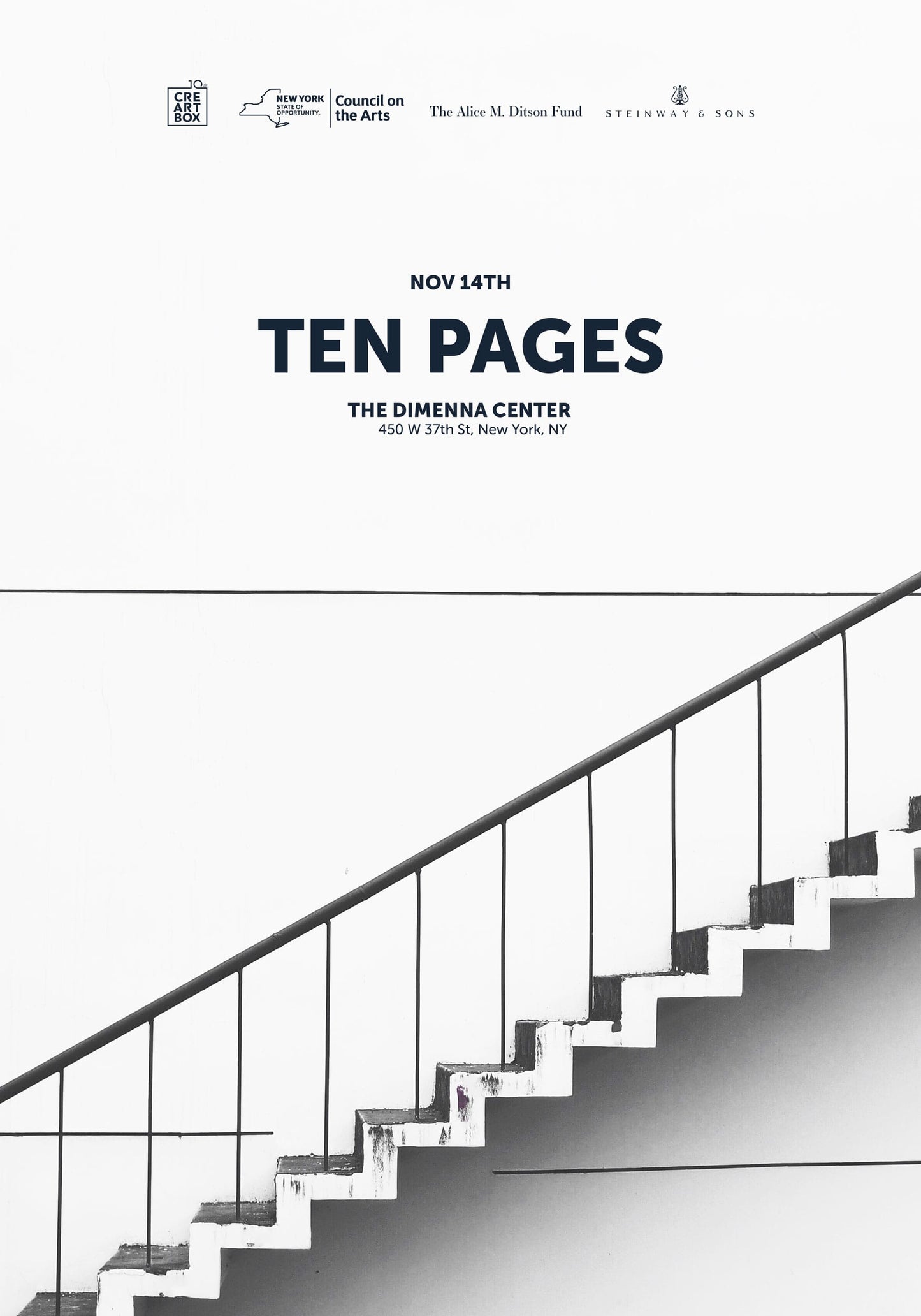 Frequently asked questions
How do I receive my tickets?

You will receivea confirmation email. You can use that as your ticket.
Should I print my ticket

That's not necesary, just show us your email at the door. There will be someone check you name or email as well.
What happen if I don't receive the confirmation email?

First at all, check you spam folder! it happened many times before. If you still have any issues plase contact info@creartbox.nyc
Can I exchange my tickets to a different date?

Yes! as long as there is availability. Just email us to info@creartbox.nyc
What's the refund policy

No refunds, no exchanges.

Artists, programs, dates, and prices are subject to change.

Programs and artists are subject to change. If an event presented by CreArtBox is cancelled or postponed, we will announce the change—if time permits—by email, phone, a letter sent to your home, and on creartbox.nyc